Bumpersticker: "FEAR NOT. ORGANIZE. RESIST"
$2.25 $1.00 On Sale!
S-FNOR



Small Vinyl Sticker: 3" x 3" Square 3 Color Sticker "Black Lives Matter"
$2.50 $2.00 On Sale!
S-3x3 BLM 3" x 3" Square screenprinted vinyl sticker with 3 ink colors: red, black and green. Outdoor durability: 5 to 7 years.
(also available as a 1.5 inch Square button, code: 1.5" BLM Sq.)



Bumpersticker: The Best Things in Life Aren't Things
$2.25 $0.75 On Sale!
S-BTIL



Bumpersticker: Value All Families
$2.25
S-VAF



Bumpersticker: War Is Terrorism With A Bigger Budget
$2.25 $1.00 On Sale!
S-WITBB
3" x 11.5" Bumpersticker



Bumperstickers: Get Corporations Off Welfare
$2.25 $1.50 On Sale!
S-GCO



Bumpersticker: Why do we kill people who kill people to show that killing people is wrong?
$2.25 $1.00 On Sale!
S-WDW



Bumpersticker: Dare to Speak Truth to Power
$2.25
S-DTST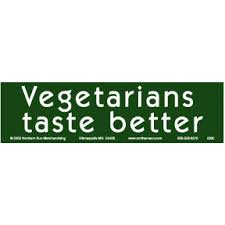 Bumpersticker: Vegetarians Taste Better
$3.00
S-VTB
3" x 11.5" • Green ink on white vinyl



Bumpersticker: "The universe is wider than our views of it." -Henry David Thoreau
$2.25 $0.75 On Sale!
S-TQ
3.75" x 11.5" Bumperstickrer



Bumpersticker: Want Fair Wages? Join A Union
$2.25
3" x 11.5" • vinyl screenprinted sticker • union made (like all of our stickers)



Bumpersticker "The Price of Apathy Is To Be Ruled By Evil Men" – Plato
$2.25
3" x 11.5" Bumpersticker * Quote from Plato on Apathy



Bumpersticker: Against Abortion? Don't Have One
$2.25
3" X 9" Screenprinted vinyl bumpersticker.



Bumpersticker: War Is Terrorism
$2.25 $1.00 On Sale!
S-WIT
3.75" x 7.5" silkscreened bumpersticker



Customprinted Labels for Back of Buttons or Stickers (Roll of 1,000)
$89.00
CL-1000
This very low price is only for our customers (organizations, groups or shops) who buy our buttons at wholesale and want to have a way for their customers to contact them again this labels are the solution. We customprint your contact info in black on white self-stick labels on a rol, and send them to you to apply to each of there buttons you order from us (or anyone else). The labels are small enough – 1/2" by 3/4" – to fit on the back of even the smallest buttons we sell. The price per thousand decreases at each higher quantity price break. Ask for pricing for 3,000; 5,000; 10,000; 15,000; and 25,000 (all must have the same text to qualify for higher quantity lower pricing. Keep your message as short as possible, a website or phone number is best. This is a valuable way for those who have the button to be able to contact you for more.


Bumpersticker Display Sleeves - Pack of Ten
$5.00
BDS-15
[no image...because, they're clear, and wouldn't show up well in a photo]
$4.00 buys ten of these 4" x 15" clear plastic 4 mil thick Bumpersticker Display Sleeves. They are the same thickness as a bumpersticker, so they're durable and long-lasting. The image shown here is the old way some people have devised to display stickers on a table outdoors.
Sure, bungee cords will help keep your stickers in place on a windy day, but we think, also having them in these clear Display Sleeves makes it easier and quicker to store, set up and also to pack up afterwards. And it keeps dust off them outside.

• Please click on the product name above (in blue) for more info about them.
• Open on one 4" end. These are THE best solution we've found to organizing bumperstickers for display at tabling events and shops.
• Ask us to send you a free sample, if you want to see one. Contact us through the Comments field on this website, or by email or phone.



Magnetic Bumpersticker Backing
$4.00
Magnetic Bumpersticker Backing
Add magnetic backing any bumpersticker you get from now on. The sticker adheres onto the magnet and the magnet mounts on your car. When it's on the vehicle it isn't doesn't look different than any other sticker. Now you can quickly remove bumper stickers and switch them to different vehicles. Display different stickers at different times for different reasons. Take stickers off any time you want. As easy to change as wearing a button. This adds a whole new dimension to displaying your views. It also lets you put them on a rental vehicle, so you can be as opinionated in a rened car as in your own. You can even tag that U-Haul truck you rent for a day.
• Our 3 & 3/4" x 15" heavy duty (.035 mil thick) flexible magnetic material will hold any size sticker or decal.
• The material can be easily trimmed to any size or shape with scissors. Sturdy grip will not come off at any speed.
Now change your stickers easier than you change your oil! We recommend you take the magnetic stickers off before going through a car wash; the high-pressure water could blow them off.
NOTE: It's also a good idea to remove magnetic-backed bumperstickers every 3 to 4 weeks because dust and dirt can build up along the edge and work its way under the magnetic material. Temperature extremes of hot and cold can make the magnetic material difficult to remove if left on a vehicle for a longer length of time than a month.



Bumpersticker: Sow Justice / Reap Peace
$2.25 $2.00 On Sale!
S-SJRP
2.75" x 15" • Dark Green ink on white sticker



Bumpersticker: When you tell the truth, make 'em laugh or they'll kill you. – Oscar Wilde
$2.25
S-WYT
3:" x 11.5"


Custom Bumper Stickers - Screenprinted

Bumpersticker: What Would Pete Do?
$2.50
S-WWPD
3" x 11.5 • Vinyl Bumpersticker • concept courtesy of Veterans Fellowhsip of Reconciliaion • this version designed by Donnelly/Colt 2019.
Pete seeger (1919-2014) lived 94 years as a folk singer, banjo player, environmental and peace activist in Beacon, New York. From Wikipedia: Pete Seeger (May 3, 1919 – January 27, 2014) was an American folk singer and social activist. A fixture on nationwide radio in the 1940s, he also had a string of hit records during the early 1950s as a member of the Weavers, most notably their recording of Lead Belly's "Goodnight, Irene", which topped the charts for 13 weeks in 1950. Members of the Weavers were blacklisted during the 1950s McCarthy Era. In the 1960s, Seeger re-emerged on the public scene as a prominent singer of protest music in support of international disarmament, civil rights, counterculture, and environmental causes.
A prolific songwriter, his best-known songs include "Where Have All the Flowers Gone?" (with Joe Hickerson), "If I Had a Hammer (The Hammer Song)" (with Lee Hays of the Weavers), and "Turn! Turn! Turn!", which have been recorded by many artists both in and outside the folk revival movement. "Flowers" was a hit recording for the Kingston Trio (1962); Marlene Dietrich, who recorded it in English, German and French (1962); and Johnny Rivers (1965). "If I Had a Hammer" was a hit for Peter, Paul and Mary (1962) and Trini Lopez (1963) while the Byrds had a number one hit with "Turn! Turn! Turn!" in 1965.
Seeger was one of the folk singers responsible for popularizing the spiritual "We Shall Overcome" (also recorded by Joan Baez and many other singer-activists) that became the acknowledged anthem of the Civil Rights Movement, soon after folk singer and activist Guy Carawan introduced it at the founding meeting of the Student Nonviolent Coordinating Committee (SNCC) in 1960. In the PBS American Masters episode "Pete Seeger: The Power of Song", Seeger said it was he who changed the lyric from the traditional "We will overcome" to the more singable "We shall overcome".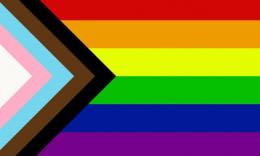 Progress Pride bumpersticker
$4.00 $3.00 On Sale!
S-PPF
3.75" x 7.5" Full Color Bumpersticker • Designed in 2018 by Daniel Quasar, the "Progress" Flag design places 5 half sized stripes in an arrow shape representing trans and non-binary individuals, marginalized People Of Color communities, as well as those living with AIDS over the left side of the traditional LGBTQ 6 color Rainbow Flag which was designed in 1978.

You can personalize this sticker by applying black vinyl letters over the horizontal bands of 6 rainbow colors, to sellout your club, organization, business, nonprofit, two-letter state initials, personal initials, team, or hashtag. Those self-adhesive black vinyl letters are sold in sets at stationery and art supplying craft stores. Recommended height of letters: one inch to two inch.

We can also custom print these stickers with your added text in black ink superimposed over the horizontal bands of color. Minimum quantity for custom printing is 125. • Use our Full Color High-Resolution Bumpersticker customprinting prices for the 3.75" x 7.5" size bumperstickers. • Price breaks are at: 250, 500, 1,000, 2,500, 5,000, 10,000 and 15,000. • Production Time: 5 working days (weekends & U.S. holidays excluded) • Shipping Time: Varies with distance of delivery and level of service (Priority Mail, Parcel Post, UPS Ground, etc.)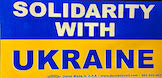 Bumpersticker: SOLIDARITY WITH UKRAINE
$2.00
3.75" x 7.5" Screenprinted vinyl bumpersticker • Union printed • 2022 • Available wholesale at .85¢ each (minimum quantity 25 for wholesale)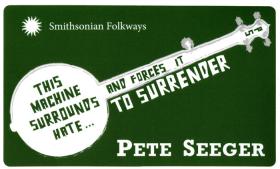 Postcard/Decal hybrid (Post-Cal): This Machine Surrounds Hate & Forces It to Surrender" - Pete Seeger
$1.25 $1.75 On Sale!
PC-PSQ
Postcard Vinyl Screenrinted Decal Hybrid itwm can e mailed as a postcard for our recipient to use as a sticker. orit can be used as a sitcker by anyone. utdoor durbility 10 years. 3-5/8" x 6" overall size. Peel off decal size: 31/8" x 5-9/16" Union made.