Quick-Order Section
(No images)
Print-Out Order Form
(for mail orders by post)
Donnelly/Colt
Box 188
Hampton, CT
06247

(860) 455-9621



Can't find something you're looking for? Just ask, and we'll let you know if we have it or can get it.
Thursday, December 13.


Donnelly/Colt Progressive Resources is a family-owned and operated mailorder business that has been designing and distributing union-made progressive materials promoting peace, social and environmental justice and human rights since 1975. We also offer a full range of custom printing services, prompt, inexpensive, quality union printing. Call (860) 455-9621 or email us at info@ donnellycolt.com. You can also Text us at 860 428-4867. Since 2009 we generate our electricity from 46 solar photovoltaic panels that power our home and business.

We custom print buttons, stickers, posters, yard signs, banners for you to promote your cause, organization, event, movement, business in your neighborhood, community, city, state or at national events. We can custom print buttons, screen printed vinyl stickers, or paper labels – union made – on a 2 day or 1 day rush, if needed. Twenty other products can also be custom printed (click on "Custom Printing" yellow tab above).

Type in 10% in the order form for 10% off your custom order.

Poster: Greetings & Thanks to the Natural World (accordian-folded)
$14.00
P-G&T
4.25" wide by 5.3" tall, folded (4.5" x 39" long, unfolded) • 100% postconsumer recycled paper
In eleven hand-lettered and watercolor-illustrated panels, GREETINGS & THANKS honors the universal message of gratitude and thanksgiving. It is long and narrow when hung on your wall (it comes with hanging string), or small and handy for prayers and meditations when keep folded on a table. Inspired by the Thanksgiving Address of the Haudenosaunee, an oral tradition used at gatherings. Designed and drawn by Karen Kerney. A portion of the proceeds from sales of this poster go to the Onondaga Nation. (www.onondaganation.org)
• Click on title to see the full text of the poster



Wreath: Peace Sign
$25.00
WREATH-PS
17" diameter hand-woven vine wreath. No two alike!
Our most popular gift item, this unique hand-made peace wreath welcomes guests in the spirit of peace and love all year 'round, or display during the holiday/winter solstice season. We include a free Peace Sign Wreath button (product code: PSW) with each wreath.
• Click on product name for more information . . .



Calendar: Peace Calendar 2019
$15.95
CAL-SCW2019
Wall calendar by Syracuse Cultural Workers
• Over 200 people's history annotations
• 48th edition
• Holidays for many faiths
• Lunar cycles, 13 native moons



Calendar: Liberation Calendar
$14.95
CAL-LC2019
by Ricardo Levins Morales Art Studio
Wall calendar features images and significant dates that highlight the struggle for justice and dignity.



Calendar: Environmental Art 2019
$14.95
CAL-EA2019
Contemporary art in the natural world
Environmental art celebrates our connection to the natural world through beauty, science, metaphor, and ecological restoration.



Calendar: Posters for Peace & Justice
$14.99
CAL-PPJ
This inspiring calendar showcases reprints of some poignant examples of call-to-action posters. The works in this collection are a rallying cry – a potent tool for communication and social transformation.



Button: I'm looking forward to looking back on all this
$2.25
ILF
1.25" diameter • Hand-assembled



Button: Hate Free Zone
$2.25
HFZ
1" diameter hand-assembled button.



Poster: Hope Has Two Beautiful Daughters; their names are anger and courage.
$15.00 $12.00 On Sale!
P-HOPE
11" x 17" • art by Janna Schneider • Pink, blue and white on black
P-HOPE
"Hope has two beautiful daughters; their names are Anger and Courage.
Anger at the way things are, and Courage to see that they do not remain as they are." – St. Augustine (354-430 A.D.)



Poster: Hate Free Zone
$7.00
P-HFZ
Art by Amy Bartell • 2010 • 8" x 10" • 80 pound matte finish photo stock.



Poster: Never Doubt
$18.00 $12.00 On Sale!
P-MMQ
"Never doubt that a small group of thoughtful committed citizens can change the world. Indeed, it's the only thing that ever has." Margaret Mead Quote (Donnelly/Colt ©1995). 11"x17". 67 pound vellum stock.



Poster: Audre Lorde
$18.00 $12.00 On Sale!
P-AL
Stunning, colorized photograph of poet Audre Lorde, printed on heavy poster stock (23 x 23") with the quote: "When I dare to be powerful, to use my strength in the service of my vision, then it becomes less and less important whether I am afraid." - Audre Lorde (1934-1992)
In her own words, she was a "Black, lesbian, mother, warrior poet" as well as an acivist, teacher, cancer survivor, author of 17 books of prose and poetry. Audre Lorde is still giving strength, guidance, and inspiration over 2 decades since her passing. (Syracuse Cultural Workers, 1994) 23"x23".



Button: Holiday Wreath shaped like a peace symbol
$2.00
PSW
(1.5" Button) • also available as 1.5" Small Labels, product code SL-PSW-10
• Click on title for some of the back story...



Small Labels: Peace Sign Wreath / set of ten
$2.50
SL-PSW-10 • 1.5" Round • ten per sheet.
Use these small labels on envelopes, cards, or stick them anywhere. We sell these at our cost. We also have these labels in stock in packs of 100. See item code: SL-PSW-100




Peace and Justice Cobalt Blue Glass Mug
$12.00
GM-PJ
13 oz. Cobalt Blue Glass Mug.
A silkscreened imprint on one side says "Peace and Justice" with a graphic of cranes flying, a symbol of peace. The other side carries a Margaret Mead quote "Never doubt that a small group of thoughtful committed citizens can change the world, indeed it's the only thing that ever has."

Union made in the U.S.A. and dishwasher safe, it's a perfect gift for the struggling activist, the part-time cytivist, the engaged citizen, the retired activist, or the radical, progressive friend, colleague, teacher, mentor or partner who drinks coffee, tea or any other beverage. As a gift, you can fill it with some buttons and stickers, too!
• We pack it in a 4" x 4" x 4" corrugated cardboard box in a larger, padded box with any other items you order at the same time.
• Click on product title for a customer's unsolicited comments about this item




Peace Wreath from Coral Tree wood
$28.00
This handmade, fairly-traded, ethically-produced variation Galtang vine wreath is framed with variously sized circles, cross sections of branches from the Philippine Coral Tree (what the locals call "takip-asin"). Nailed to the vine frame in three layers, the circles lend depth and a touch of modern appeal to this natural wreath. It is slightly larger in diameter than our peace wreath made of vines: 16"diameter x 1 1/2"deep, with a hook on back to hang it. Fair trade imported by SERRV. We include our Peace Sign Wreath button (code PSW) with your order.



Button: "Darkness cannot drive out darkness: only light can do that. Hate cannot drive out hate: only love can do that." - Dr. Martin Luther King, Jr.
$3.00
1" x 2" • Quote from M.L.K. (1967) from his book "Where Do We Go From Here?" DCDO



Poster: Together We Can Do It!
$15.00
24" x 18" • Offset Lithographed Union Printed poster • 2016
This celebration of women's power and the strength of diversity, by Innosanto Nagara, is a descendant of the classic Rosie the Riveter poster. Also available as a postcard, P-TWC
© 2015 Design Action Collective / Innosanto Nagara
Item code: P-TWC



Bumpersticker: "In a time of universal deceit, telling the truth is a revolutionary act" George Orwell
$2.25
S-OQ
3" x 11.5" • George Orwell quote




Bumpersticker: "The moral arc of the universe is long, but it bends toward justice." --Martin Luther King Jr.
$2.25 $1.00 On Sale!
S-MAJ
3" x 11.5" bumpersticker • Martin Luther King quote;
One free sticker with every order IF you ask for one in the Ordering Instructions field.



Book: MoveOn's 50 Ways to Love Your Country
$10.95
BK-MO50
How to Find Your Political Voice and Become a Catalyst for Change

With section intros by Gail Sheehy and Nancy Pelosi, an inspiring collection of 50 call-to-action essays from MoveOn members around the country.

Click book title link below for a detailed description.




Poster: IMAGINE
$15.00
P-JLSF-IMAG • 24" x 36" • 2013 • photograph of inlay at Strawberry Fields, the memorial to John Lennon (1940-1980) in Central Park, N.Y.C.



Button: Resist (b)
$2.25
R-rev
1.75" diameter • 2017 • Black background, white woodcut
code: R-rev



Bumpersticker: RESIST
$2.25
S-RESIST
3" x 9" Bumpersticker
Inspired by the Greenpeace banner drop from a crane near the White House, Washington, D.C. on January 26, 2017.
Here's what it looked like.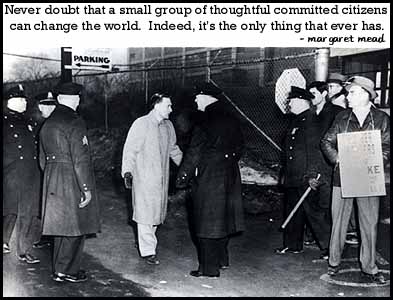 James Donnelly (Kate's father, 1917-1986) negotiating
with police as vice-president of his local United Rubber
Workers union, on strike in West Haven, CT in 1951.
• We now have a Quick-Order Section without images so that you can find what you're looking for more easily if you have a slow Internet connection.
• We've put together a collection of our favorite progressive web sites. Be sure to check them out, and let us know if there are any great sites we're missing!

• Customer Comments we've received over the years.
To subscribe to our occasional (6 times a year) email to receive news about new and featured products and special deals, enter your email address below and click Subscribe.
To unsubscribe, enter your email address below and click "unsubscribe".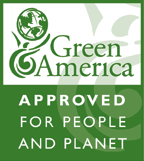 Back to top of page.